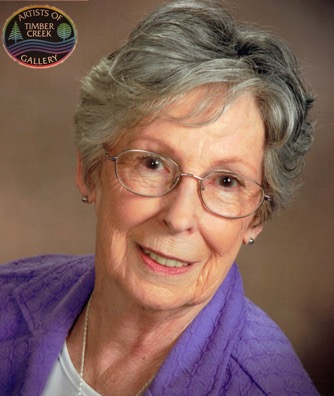 Yvonne is a member of  The Artists of Timber Creek in Roseville, California   
My life, leading toward being an artist, is much too long a story to tell here so let's just try the Reader's Digest version… 
After getting married I was a housewife and then started college during the same week my son Thom started kindergarten.  After graduation I began teaching biology, then on to mathematics and computer science, earning two Master's degrees along the way.  After teaching +31 years I took early retirement however I continued to teach mathematics part-time as I pursued all phases of art that I could cram in.
Life is too short not to pursue what you love to spend time on.
Now another +19 years have gone by, studying with some great art instructors along the way and I finally quit my part-time teaching job at the college and am working on my art full time.  During this +19 years I have been successful in selling my art pieces (paintings, fused glass pieces, ceramics, welded art, etc.) and I have come full circle back to biology, my love of nature and all God's creations.  I enjoy painting all the beauty around me that I see, trying to be as accurate as I can but still reserving my right to apply "artistic license" to whatever I am working on.  I have been fortunate to have had three "one-woman" art shows back in the early 2000's and continue to show my art at various club functions. In 2015 one of my paintings was juried and picked as the Signature Painting in the Acrylic division for our Art Show.
I want people to be able to have original art but at an affordable  price.
The Fine Arts Club I belong to has a Boutique art sale in November; and a big two-day juried Annual Art Show in the spring (next one is DATE NOT SET YET. where we lease the Timber's Ball Room at the Sun City Roseville Lodge, have live music, and a great show. Use the contact page for times, directions, etc. for the next show.
Thank you so much for taking the time to view my website.  
I hope you enjoy what you see here and I would love to receive your thoughts and comments and suggestions about my work and this web site.
I am so grateful to God for allowing me to live long enough to rediscover myself.
Soli Deo gloria